Uncle Tommys Favorite (Turkey) Hash
They say necessity is the mother of invention…
And that is definitely the case here. 
A few years back, Shelby and I had the WHOLE family over for thanksgiving (big mistake, but that's a story for another time…). We're talking kids, grandkids, great-grandkids, cousins, nephews, someone brought their postman… It was a BIG affair. 
And when the evening was through, NO ONE TOOK HOME ANY LEFTOVERS. Shelby and I were stuck with more Thanksgiving fixin's than you can shake a pilgrim at.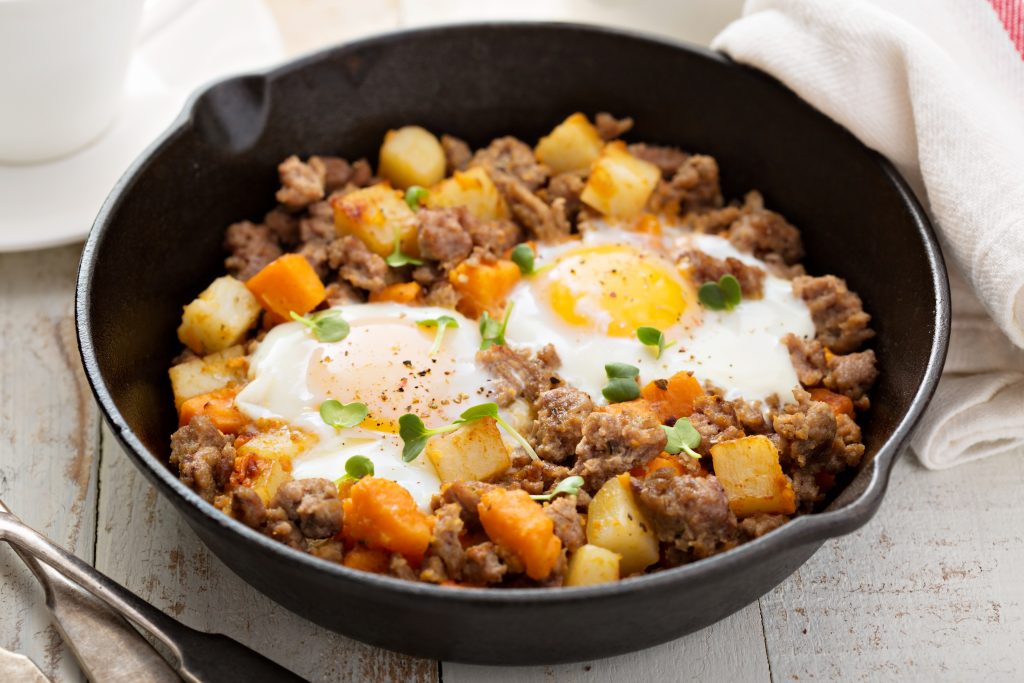 After 2 straight days of Turkey sandwiches, we had to get creative, by which  I mean I googled "leftover turkey recipes that don't suck" .
After my first time trying it, I was hooked. I mad it for breakfast every morning (and once for dinner) till we ran out of turkey.
I wish I could remember where I found it. But, I printed it out 4 years ago and then made it so many times, I could do it from memory and lost the recipe. 
So, if the recipes below looks familiar to you, let Uncle Tommy know so I can credit the original author. 
Anyway, without further ado, please enjoy Uncle Tommy's Favorite Hash. 
This recipe makes 2 servings
Ingredients

Cup shredded leftover turkey

Red Bell Pepper (Chopped)

Medium Onion (Peeled and Finely Chopped)

Cup Stuffing (The boxed stuff is fine)

Cups hash-browns. (The original recipe had me boiling potatoes and shredding them by hand, but this BREAKFAST... Who wants to boil potatoes for breakfast? I use the bag ones from the store now. Just as good)

jalapeños (Optional, but I like spicy breakfast)

Cup Cheddar Cheese (optional)
This is gonna take 2 pans. Put them both on medium-low heat.

In the first pan, melt 2 TBSP of butter (or oil of your choice) and make your hashbrowns according to the directions on the pack. (If you're the kinda person with more patience than me before breakfast, you can make these from scratch… but c'mon… You got something to prove? This is no time to get fancy…)

While your hashbrowns are cooking, in the second pan, melt the remaining butter and saute your onion and bell pepper. (I prefer to add the jalapeños later).

Once the onions are translucent (about 3), add your turkey and turn the heat up a bit. I love it when the turkey gets a little crispy on the bottom.

Once your turkey is getting a little crispy around the edges (3 minutes or so), reduce the heat and add your stuffing and gravy. Stir (with a wooden spatula) to combine.

Let this simmer for a good 3-5 minutes to let everything incorporate.

If you have jalepeños, add 'em now.

If you timed it right, your hash should be done riiiight about the same time your potatoes are ready for a plate. Scoop 1/3 of the hashbrowns onto a plate and top with 1/3 of your turkey hash.

Top each plate with 1/3 of your cheese to melt (optional).

While your cheese is melting, fry your eggs in your turkey pan (it's the most flavorful).

Top each plate with 2 fried eggs.
What I love to do is pour some hot sauce over my eggs (Cholula is my current favorite) and then break the yolks over my hash to make a delicious spicy egg sauce that covers every bit… (But hey, that's just me)
Either way, if you end up making yourself a plate of Uncle Tommy's Favorite (Turkey) Hash, send me a picture!
Bon apetít!
Check Out Our Most Popular Products