Uncle Tommy's German Potato Salad
It's a little silly calling it "my" potato salad…
See, I just had it for the first time on July 4th when Rahma brought it to our house for the holiday.
Since then, I begged her for the recipe (she obliged) and Shelby and I have made it ourselves once. 
The beauty of this recipe is that it's easy, but so customizable. For instance, this version is vegetarian, 'cause lots of members of the Chong clan don't eat meat, but I understand lots of folks like to add bacon. (Sounds like it would be delicious!)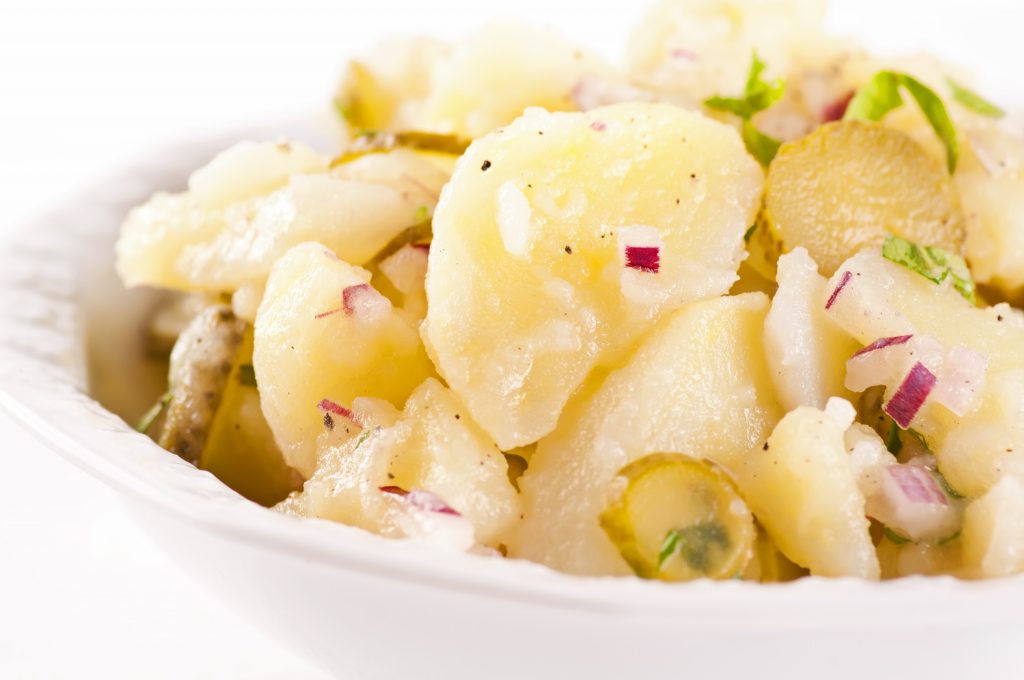 Ingredient

Amount

Yukon Gold Potatoes
Sliced 1/2 inch thick
(I bet this would work FINE with russet potatoes too... Next week I'm gonna try baby reds... Get funky. Potatoes are potatoes.)

Brown Mustard
(Get the good stuff if you can...)

Kosher Salt
(The regular stuff is fine... I bet seasoned salt could be good too!)

White Pepper
(I bet black would be fine too)

Water
(Use the hot water from the potato pot)
Directions (The EASY Part)
Boil The Potatoes
(Told you it was easy…) Put sliced potatoes in a pot large enough to cover with 2 inches of water. Bring to a boil, then reduce the heat to medium-low and let simmer for 6-8 minutes.



Make Dressing
While the potatoes are simmering, add everything else but the water to a boil and whisk it like hell for 10-15 seconds till combined. Set aside.

Add Water
Just before the potatoes are done boiling, snag a quarter cup of the starchy water from the pot and mix it into the vinegar mix.
Add Potatoes
Drain the tender potatoes and toss immediately into the dressing and mix.
BOOM. You're done.
Eat it right from the bowl while your wife yells at you to wait (my personal favorite) or you can re-heat it later if you like. Either way, serve hot.
This potato salad is AMAZING. It's flavorful and filling, but still feels light without the mayo.
It goes great with my Teriyaki Chicken Drumsticks (which I discovered on the 4th!)
Super easy. Super quick. Super tasty. What more can you ask for?